Quality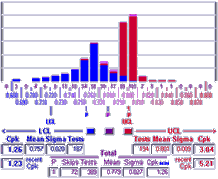 To ensure that our metal platings meet our customers' quality expectations, as well as our own high standards of excellence, ENS Technology maintains a fully-enclosed quality control suite within our facility.
At ENS we are committed to sustaining each customer's most challenging technical, time to market and economic requirements. As your custom service experts, we will continue to discover and implement new ways to help improve your products and overall bottom line.
Our electroless nickel plating quality control custom services are handled by our highly trained technical specialists and production staff that provide expertise, leadership and high standards of excellence. ENS is committed to implementing business improvement processes. Our custom service electroless nickel plating quality control process provides the keys to continued improvement and overall customer satisfaction.
High-End Custom Service Equipment
Our 1300 ft2 QC suite includes a CMI Oxford XRF950 (X-Ray Fluorescence) computerized thickness measuring instrument, multiple Bausch & Lomb power zoom microscopes, and a full array of linear measuring devices, including multiple, calibrated micrometers from ≤1 up to 6".
And our newest tool is an Oxford Instruments Maxxi 6; a high performance, fast and non-destructive coating thickness & materials analysis analyzer. It is the ideal instrument for measuring the thinnest coatings and element composition at trace level. Capable of analyzing solids or liquids over a wide element range from Al to U on the periodic table.
Value Added Custom Service Options
Our value-added custom services add to our electroless nickel plating quality control aspects that we have in place to maintain our high standards of excellence. Our value-added custom service options include the following.
Analytical Lab
Our fully-equipped analytical laboratory enables on-site testing of chemical concentrations and impurities using volumetric analysis and atomic absorption testing.
At ENS we are the only metal plating company in Northern California to preserve a fully equipped, on-site analytical laboratory. Our lab allows for real-time testing of chemical concentrations and impurities using volumetric analysis and our state-of-the-art Perkin Elmer AA200 atomic absorption spectrometer. And our latest acquisition is a PinAAcle 500, the world's first completely corrosion-resistant flame atomic absorption spectrometer. Chemical bath data is collected as bath analyses are performed, and statistical analysis is performed immediately upon data entry, thereby providing real-time process control. Strict supervision and recordkeeping ensures a controlled baseline in pre- and post-process fluids management.
ENS Technology's provides on-site analysis of any plating chemistry, which is performed in unison with the plating process to ensure absolute quality and consistency throughout the plating and finishing process.
FAA Certified Repair Station
At ENS we are an FAA certified repair station (certification # AP3R379L). This certification provides us the ability to perform plating and finishing services solely for military and defense components. This added benefit allows for complete turn-key quality control expertise in a single environment.
Consistent Quality & Reliability
ENS Technology has the technological capabilities and fortitude to produce metal platings that provide exceptional quality and unsurpassed dependability. Due to our value-added services and unwavering commitment to excellence our customers enjoy a level of satisfaction that keeps them coming back year after year.
Contact ENS Technology Today
Contact us for more information regarding our electroless nickel plating quality control processes, or call us at (408) 496-0740 to learn more about our metal plating capabilities.